To download the PDF map onto your mobile device (I-phone, I-Pad, or Android or Microsoft phone or tablet), follow these simple instructions:
1. First, obtain the Avenza app (free) from the App store compatible with your device. You can Google "Avenza Maps" and look for "Avenza Maps Mobile App." You will have to open an Avenza account (also free). Just follow the directions.
This is the icon that will appear on your device: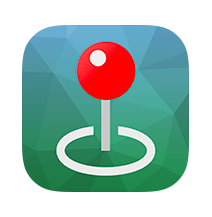 2. Now, using the Avenza app on your device, click the "Maps" section at the bottom left.
3. Click the "+" in the right upper to add a map.
4. Click the Scanner symbol in the right upper corner.
5. Scan the QR code below
6. Click download. This is a large file (about 90 Mb) and may take about 15 minutes to download.
Screen shot from the Avenza App